Kwara Pupils Study In Dilapidated Buildings, Overcrowded Classrooms, Despite N14.2 Billion UBEC/SUBEB Fund
A Case of Five Schools

Abdulbasit (not real name) is a primary three pupil in Oke Suna LGEA Primary Schools A and B, Ilorin. The school, established in 1915, is renowned for producing prominent Kwara State indigenes who have occupied and are occupying prestigious positions in the society. Among them is the present Emir of Ilorin, Dr Ibrahim Sulu Gambari.

Perhaps Abdulbasit may not know about the rich heritage of his school, but he sure knows that his school enjoys more privilege in terms of infrastructural development, both from the government and alumni members. The school compound is floored, preventing dust from flying about, the taps are running, the classroom boards are white, the chairs and tables are in proper shape, and it is located within a fence and a well-secured gate.
When asked what he likes about his school, Abdulbasit retorted admirably, "My teachers are always punctual and they teach us well."

Oke Suna LGEA Primary School in Ilorin-West. Photo: Rasheedat Iliyas.

Learning experience is however not the same for every pupil in public-owned schools in Kwara State. It is like a case of the "haves" and the "have nots."

Within a few kilometers of the Oke Suna Primary School lies Ayegun Primary School, situated along the road leading to the Ogbomosho expressway. Contrary to Oke Suna, Ayegun Primary School presents a stark contrast. From the fenceless premises allowing the prying eyes of our reporter, to the dilapidated blocks of overcrowded classrooms to rickety classroom furniture, it is a sour state to behold. Despite these conditions, the pupils tarry along as the class teacher read out lessons from a technological device which I later got to know to be the much-talked-about "KwaraLEARN" tablet.

In a visit to the school, I pretended to be a parent wanting to enroll my son into the school and made an enquiry about the admission procedure. The Head Teacher was not on seat, so someone offered to assist with the list of requirements. While the list is being drawn, I took my time to observe the classroom environment and its occupants. The classroom is conspicuously over-stretched. It is occupied by two sets of classes of pupils, each facing opposite directions with their teachers on both sides of the classroom. While one of the teachers, along with her pupils, was occupied with the lessons from the KwaraLEARN tablet, the other teacher sat quietly bent over the KwaraLEARN tablet while the pupils on her side of the classroom also minded their "businesses."

Inside the classroom, the adjacent walls, painted in black, function as writing boards. I witnessed a distressing moment when one of the pupils accidentally fell off the broken plank she was sitting on while listening to the teacher. With resilience, she pieced the planks together and resumed her seat. Another pupils sat on the floor, diligently transcribing notes from the teacher.

The classroom's windows were open, allowing breeze to alleviate the stifling heat emanating from the exposed ceiling. The overall appearance resembled that of a vandalized facility, with some ceilings hanging precariously and the students' furniture reminiscent of those typically provided by SUBEB.
Handwritten enrollment requirements for Basic one pupil. Photo: Rasheedat Iliyas.

Moreover, the cost of tuition appeared quite reasonable. Based on the provided list, registering a child in primary one required less than two thousand naira.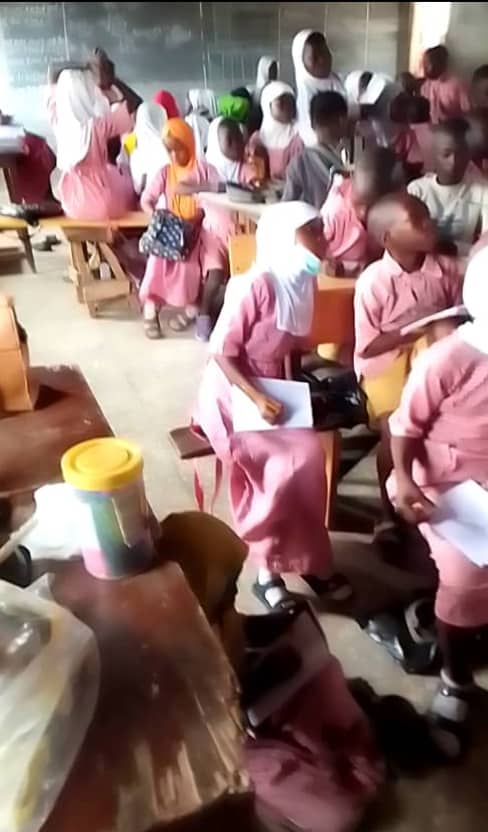 Ayegun Primary School. Photo: Rasheedat Iliyas.

Ayegun Primary School. Photo: Rasheedat Iliyas.


I made a trip to another primary school in the popular Eyenkorin community. A resident of the area, Saibu Adio Akeyede whose children attend Ayegun Primary School, paints a vivid picture of the situation at ASA LGEA Primary School. He spoke in the native Yoruba language.
"You will notice that they have built a new one. The one they were using before is no longer good. It has no roofing. We only go there during elections to vote.

They ought to have repaired the old structure, if you look at it, you will see that the old structure is the one facing the road, the new one is just by the side. If they renovate the old one it will look better and it will cost less than to erect a new one. If they go ahead and build another one again, it will disfigure the school unless they pull down the old one."

When I visited the school, I met a small gathering of people who later turned out to be members of the Community Development Association and the school officials. Upon stating my purpose of visit, which is to ascertain the condition of the school's facility, I was asked to leave. I was later informed that some people had earlier come to the school unnoticed and took pictures of pupils learning under a tree, which later surfaced on the social media with a narrative which discredited the State Government.
ASA LGEA Primary School. Photo: Rasheedat Iliyas and Isiaq Abdulhamid.


Like Ayegun Primary School, Asa LGEA Primary School in Eyenkorin is not fenced. It is a short distance from the Mother and Child hospital, which was said to have been facilitated by Senator Ibrahim Oloriegbe, a former representative of Kwara Central Senatorial District at the National Assembly. Although the school has benefited from the construction of a new classroom block, it is a stark contrast to the dilapidated block of classrooms that used to make up the school.
During my brief interrogation and eventual dismissal by the school's headmistress, I learned that the community had been promised that the school would benefit from another round of classroom projects soon. However, Pa Yinusa Aliru, a resident of the area, said that there is a lot of work to be done, and that the old structure is completely dilapidated. He urged the government to renovate it so that it does not become an abandoned building.
LGEA Primary School, Gaa Odota in Ilorin West Local Government, is another school that has benefited from UBEC/SUBEB projects under both the previous and present administrations. Although it is not fenced nor is the ground floored, newly constructed blocks of classrooms adorn its premises. There is also a solar-powered borehole built by SUBEB, as well as a VIP toilet facility next to a dilapidated one.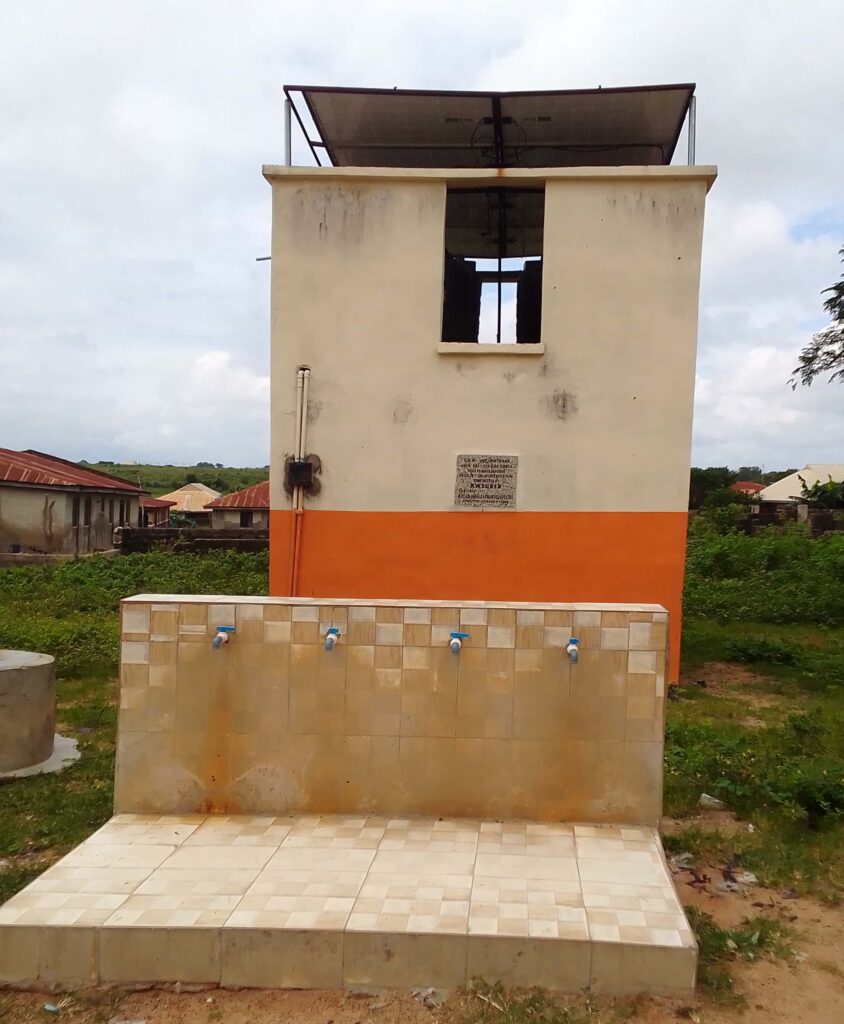 KWSUBEB projects at LGEA Primary School, Gaa Odota. Photo: Rasheedat Iliyas.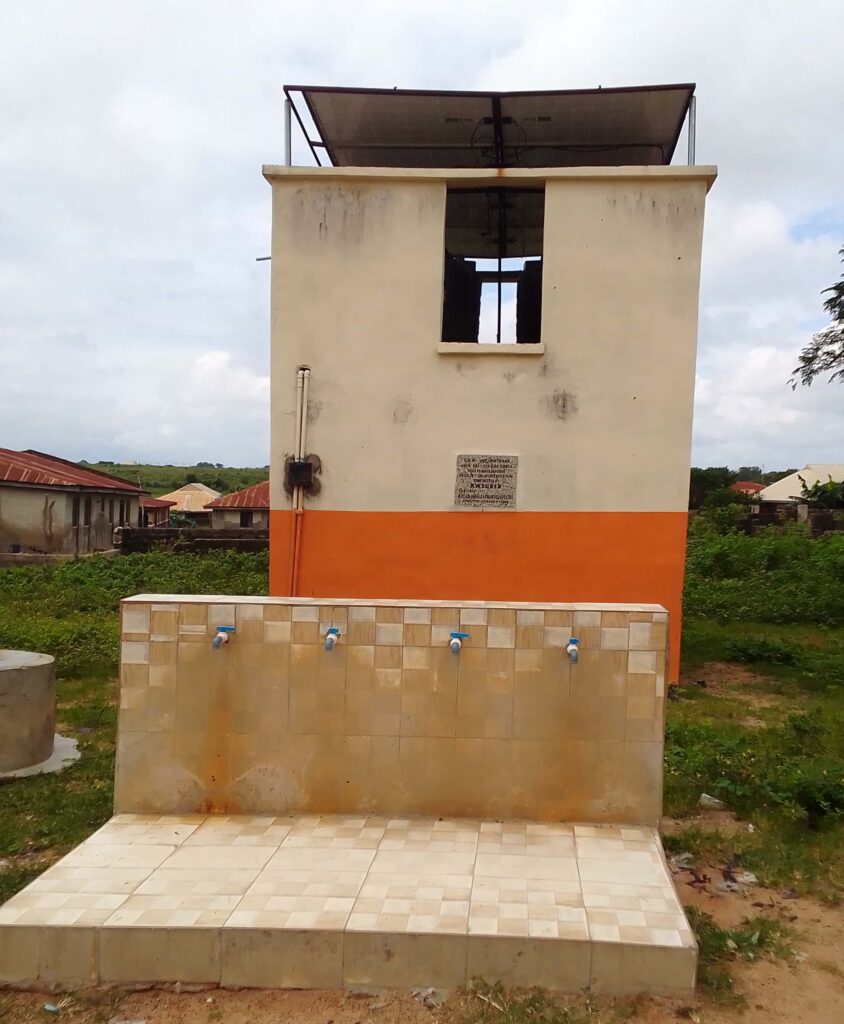 A community leader, Alhaji Folorunsho Kure, said that the community has no problem with its basic school education.
"We have benefitted from SUBEB. They renovated more than seven classrooms in our school at Gaa Odota. There's a borehole. We have classroom furniture. They post teachers to us every time. However, we need their help for our Senior Secondary School education. There are no classrooms. No laboratories. Some classrooms meant for Junior Secondary School are being used to accommodate the SS students.
"The Governor says he wants children to learn, be in a clean environment and enough space. But the classrooms we are using now are inadequate."
Alhaji Folorunsho Kure, community leader at Gaa Odota community. Photo: Isiaq Abdulhamid.
This demand by the community leader was echoed by the Magaji Gaa Odota who said, "we are not satisfied with the present condition of our schools. We have received assistance from the government in basic education but we also require assistance in Senior Secondary School classes."
These demands will, however, never be met under SUBEB as the provision of Senior Secondary School is not within its purview.
Alagbado community in Ilorin South Local Government Area is another community that has benefited from a SUBEB project, with the construction of one block of two classrooms for Junior Secondary School students. This block shares the same premises with a Constituency Project facilitated by Ganiyu Cook Olododo. The Constituency Project accommodates some students in Senior Secondary School classes, while the rest are housed in an abandoned skill acquisition center maintained by the community.

The one block of two classrooms built by SUBEB for Junior Secondary Education is also insufficient to accommodate the large number of students in the school, so the community still maintains a rented school building where the rest of the students in Junior Secondary School classes are accommodated.

Alhaji Isiaka Omotayo Ibrahim, Chairman Araromi Community, Alagbado, explained that the community has received assurance from the State Government that more blocks of classrooms would soon be constructed, but the community does not know when this will happen.

"Up to this moment, the apartment we are using (for Junior Secondary School), it is on loan. Actually the Kwara State Government has been able to build two classrooms for us last year and that one is still existing. Based on the situation in the country now, the population of schools is already increasing. In fact, up to this moment, we don't even know what to do if they release the common entrance for the new intake of the Junior Secondary School. But the community has let all the principals know that whatever they have at hand, they should maintain it."
While the community struggles to keep its Junior Secondary School afloat, pupils in primary school seem to be doing well. Their classroom walls bear the SDG logo, a testament to the fact that the community has also benefited from the Federal Government's SDG projects.
The rented block of classrooms for JSS classes in Alagbado community. Photo: Isiaq Abdulhamid.


UBEC SUBVENTION: How Kwara State Was Blacklisted For Six Years.

As of May 2019, when Governor AbdulRahman Abdulrazaq's administration came into power in Kwara State, the State was blacklisted from accessing UBEC funds. The blacklisting, which occurred in 2013, was reportedly due to the diversion of matching grants meant for the development of basic schools to other uses. This prevented the State from accessing the subventions for many years, as it had to refund the misappropriated money in installments. By 2019, the State had yet to access the grant, which had accrued to the tune of N7.1 billion. To access this fund, the Government would have to repay over N450 million to UBEC, an amount left to complete repayment of the misappropriated N1.5 billion fund, and then an equivalent amount of money from the State Government.

KWSUBEB Chairman, Professor Abdulraheem Shehu Adaramaja said that the government owned schools then, suffered neglect due to the misappropriated funds.

"When this Government came on board, the situation of our schools were in dilapidated conditions. Many of our classrooms were not something to write home about. Not because there was no Government that time, but Government of that time diverted the matching grant that it is supposed to use, precisely, the matching grant of 2013, that they were supposed to use for school upgrading. They misused the money and that led to serious controversy between the Universal Basic Education Commission, Abuja and Kwara State Government. And what was the disagreement? The then Government of Kwara State paid a counterpart fund of about N1.3 billion into their account and then UBEC also paid a similar amount of money , making about two point something billion.

"And to our dismay, what we met on record, the State Government of that time, diverted the money. Initially, they first removed their own counterpart money contributed of about N1 billion, in a day… in a day The records are there.
The statement of accounts can testify to that. You removed N1 billion for no just cause under the pretense of using it to pay teachers salary. And the guidelines are there, you can not use SUBEB money, matching grant to pay salaries, to pay allowance or some other things. There are guidelines for what you can use the matching grant for but the government of that time diverted the money. The UBEC now said "you have diverted the money, then return our money" before they say they will return, the part paid by UBEC was also spent unaccounted for on frivolous excuses. The UBEC now blacklisted the Kwara State Government, they said they stopped any form of relationship with the government at that time. So that lasted for some years."

By 2021, the Kwara State Government had completed its paperwork and received a matching grant of 14.2 billion naira to begin projects to revitalize public schools in the State. One of the steps taken to achieve this goal was the appointment of Professor Raheem Shehu Adaramaja as the Chairman of the State Universal Basic Education Board, KWASUBEB. Thus began the journey to revamp basic and junior secondary schools in the State.
"So when our government came in May 2019, one of the very first step Governor Abdulrahman Abdulrazaq did was to cement the relationship. In an attempt to cement that relationship, UBEC said "Yes, the previous Government has started refunding the part of UBEC grant misused, so they are left with N450 million. So for anything to come up, you have to first of all, repay the loan of N450 million, which Governor AbdulRahman Abdulrazaq did. After that, they now opened record, that yes, we have opened a record for you, you have accumulated grant of 2014, 2015, 2016, 2017, 2018, and 2019. That amounted to about N7.1 billion. So for you to access the N7.1 billion, you have to look for equivalent amount, because it's counterpart fund, 50,50. So Abdulrahman Abdulrazaq paid equivalent amount of N7.1 billion to march it up with the UBEC grant of N7.1 billion for that accumulated six years that were on record." The KWASUBEB Chairman explains.

At the flag-off ceremony in Otte town, Asa Local Government Area, Kwara State Governor, Mallam AbdulRahman AbdulRazaq, announced that the grant from the Universal Basic Education Commission (UBEC) would be used to finance massive infrastructural projects in 600 schools across the state. The projects include remodeling of schools, constructing new classrooms, rehabilitating existing ones, and building water, sanitation, hygiene (WASH), and information and communication facilities.

Understanding the Modalities of UBEC Fund.

The Universal Basic Education Commission (UBEC) matching grant is a combination of grants from donor agencies, the Federal Government, and State Government. Each year, States are allocated a specific amount of funds and are expected to provide an equivalent amount to double the grant. States are only able to access the subventions when they provide the required matching funds. Many States are unable to meet this demand, leading to large deposits of unclaimed funds in UBEC's coffers.
Entrance to KWSUBEB Chairman's office. Photo: Rasheedat Iliyas.

In May 2023, during an oversight visit by the Senate Committee on Basic and Secondary Education to UBEC headquarters in Abuja, Acting Executive Secretary, Professor Bala Zakari, declared that over N46 billion was yet to be claimed by some States Government, including Kwara, which had only recently accessed its accumulated six-year subventions.
Stakeholders view the inability of State Governments to access this grant on a timely basis as a sign of a lack of genuine commitment to the development of the education sector in their respective domains.

According to the UBEC Act, the matching grant must be used in line with the commission's guidelines, which are to ensure a single account for the UBEC matching grant for accountability, to ensure that funds are used for the construction or remodeling of schools and provision of school furniture. The fund is not to be used for paying teachers' salaries. This explains why Kwara was blacklisted when the then State Government diverted the UBEC fund to other uses and operated multiple accounts.
"Matching grant is for projects, school upgrading and all that. You don't even do training from the matching grant, it's for physical infrastructure only," explained, Professor Adaramaja.

When asked how many accounts were being used by KWSUBEB, the Chairman of the agency was quick to respond.
"If you want to steal, you will want to put money in different places, so UBEC said for matching grant, account must be a single account, while are you opening multiple accounts for it? That has been canceled in order to curb malpractices especially as we witnessed in the previous administration. Our bank is Unity Bank for matching grants."
Bus donated to KWSUBEB by Unity Bank. Photo: Rasheedat Iliyas.
How KWSUBEB Spent N14.2 Billion on 1,810 Projects in 605 Schools
Armed with over 14.2 billion naira matching grant, the State Government in 2020 began the mass execution of projects across the 16 Local Government Areas of the State. The fund was the accumulated matching grant for 2014 to 2019 accessed by the State Government through KWSUBEB. As of September 2023, a total of 1,810 projects had been implemented.
"….and it is that N14.2 billion that we have used for construction, and renovation of 605 schools. We did remodelling of classrooms in some schools. The construction consists of a block of Two classrooms with an office. A block of Three classrooms in some places, a block of four classrooms with three offices in several other places and of course, remodelling of 1335 classes across the sixteen Local Government Areas, the provision of 29,005 students' furniture. It's a twin seater furniture made of wood and steel supplied to schools after renovation or construction. And of course, teachers' furniture of 7,344 were also provided and distributed across the 16 Local Government Areas. If you get to our schools, you will see some of these new furniture. From that fund, we also provided 89 motorized boreholes, and 69 VIP toilets, scattered across the 16 Local Government Areas," Professor Adaramaja explained.

Documents showing 2014 SUBEB projects by the Kwara State Government. Photo: Rasheedat Iliyas.
A document received from the State Government showed that most of the projects had been completed, while some were still on-going. Data obtained from the agency gave a breakdown of the projects as the construction of 83 blocks of two classrooms; 69 blocks of three classrooms; 61 blocks of four classrooms; 78 VIP toilets and deep well; 1,414 projects involving remodeling of classrooms were carried out; 24 whole school approach; 42 boreholes and; 39 Digital Literacy projects.
A school project in Ilorin West Local Government Area. Photo: Rasheedat Iliyas.

According to the KWSUBEB Chairman, each of the Digital Literacy Center has at least 30 to 25 computer systems with solar power and designated instructors. These projects, according to the documents received, are sited in communities across the 16 Local Government Areas of the State.
KwaraLEARN
KwaraLEARN is a flagship programme under KWSUBEB projects. The programme which has received accolades has also got its own fair share of criticisms. The project which is technology-based is powered by a tablet and comes with a daily lesson plan with a predetermined time schedule. This implies that teachers are no longer expected to draw up lesson plans as all SUBEB teachers across 16 Local Government Areas of Kwara State receive the same lessons daily and pupils learn uniformly.
Professor Adaramaja explained that the KwaraLEARN project took a cue from similar programmes in Lagos (Eko Excel) and Edo (EdoBEST) States.
"The Kwaralearn initiative also forces them to enter the classes because if you have your tablet with you and you don't teach, it will show in our database and we will stop your salary after one or two instances. So everybody is now forced to do the normal thing," he said.
Investigations revealed that the programme has truly improved teachers' classroom attendance and punctuality as every SUBEB teacher is expected to clock in by 7:30am daily using the tablet which is always left in school. They also need to clock out at the end of each school day.
At some of the schools visited, I watched as class teachers read out lessons from the device with immediate feedback from the pupils who at the same time jots down notes. From my observation, the impact of the programme will be more pronounced if class population is moderate. During my visits to some of the schools, the KwaraLEARN tablet froze making it impossible for the teachers to scroll down for more lessons. I later found out that it is a common occurrence.
Despite these challenges, A class teacher in Basic Five who identified herself as Aunty Lily believes that the system has checkmate teacher's absenteeism and increased productivity. However, some teachers disagree as they claimed that the restriction to specific lesson routines has stifled their creativity. Some teachers also complained that the time allotted for each lesson is often inadequate, especially for complex subjects that require elaborate explanations and note-taking. Additionally, a lack of instructional materials is also undermining teaching and learning.
"The SUBEB KwaraLEARN is working and we love it, especially in the area of children's reading, they are able to read very well now but we have some challenges, especially in the area of other subjects, social studies, physical health education, those children cannot really write very well and the instruction is for them to listen to what the teacher is saying, the ability for them to write is still not working so we want KwaraLEARN to look into that.
"In the area of instructional materials, time to present the instructional materials to them during lessons is not available at all. The time frame is very short, forty minutes for a lesson.
We need more time in the learning process for them to really learn very well. Then classroom space. We don't have enough space. Children are too much for a teacher in a class. There's a class in my own school where there are 60 pupils, before a teacher can go round to mark their work because you are not supposed to sit down while marking their work. The teachers are working, we need more classrooms and more teachers.
"We need instructional materials so the children can understand what they are actually learning. We used to improvise so learning can take place effectively," Anuty Lily said.
At the office of KWSUBEB, I was shown instructional materials which were to be distributed to basic schools across the State. This, the agency's Chairman said, is an annual ritual which happens at the beginning of every academic year in September. The distribution of instructional materials along with sporting equipment for forty schools, textbooks, and exercise books began with a launch in Ajase-Ipo, in Irepodun Local Government Area on September 21, 2023.
Impact of SUBEB Interventions on Education in the State.
In December, 2021, Kwara State was announced as the winner of the 61st Independence Anniversary President's National Inter-basic School Debate Championship held in Lagos State. A feat it recorded beating other States of Federation including the host State, Lagos.
This qualified the Kwara contingent for a ticket to participate at the World School Debating Championship in Dubai. The contingent, made up of six Junior Secondary School students from different public schools in the State, came second in the global competition.
This success recorded and the increase in basic school enrollment are some of the landmarks pointed out by the government as the dividends of massive investment in basic school education.
"The lucky six (Kwara contingent of four females, two males) at the World Debate Championship in Dubai, came second after an excellent performance at the 2021 Presidential School Debate. We are happy with that and we want to do more"
"We have more enrollment. Over 666,000 pupils sat for the last ( 2022/2023) Common Entrance and before, it used to be 35,000/40,000," an elated Professor Adaramaja declared.
A block of classroom project by KWSUBEB. Photo: Rasheedat Iliyas.
Data from the State Government shows that enrollment in some local government areas has increased compared to previous years. This is true for Kaiama and Baruten, where enrollment in government schools has increased significantly. For example, in Kaiama, primary school enrollment in 2020 was 12,500, while junior secondary school enrollment was 2,653. By 2022, Kaiama had 36,331 primary school pupils enrolled and 3,709 junior secondary school students enrolled. Oyun also recorded an increase, with primary school enrollment rising from 4,728 in 2020 to 16,151 in 2022, and junior secondary school enrollment increasing from 3,838 in 2020 to 6,029 in 2022.
However, a few local government areas have experienced a decline in enrollment. For example, Ifelodun, which had 14,352 primary school students enrolled in 2020, had only 10,656 enrolled in 2022. Overall, the State had 20,621 more primary school pupils enrolled in 2022 than in 2020, and 4,193 more junior secondary school students enrolled.
Data on KwaraLEARN website shows that the State has 1,578 public primary schools. This is aside from junior secondary schools which is 498. And so far, only 605 schools benefited from the N14.2 billion accumulated subventions accessed in 2020, leaving 1,471 others awaiting similar gestures.
"I will give them 50 Percent"
Beyond the aesthetics of these projects, some SUBEB teachers who spoke on the condition of anonymity due to fear of victimization said assessing the academic performances of each pupil has become too tiring and enforcing discipline is herculean as classrooms have become over bloated.
A teacher who identified himself as Mr Sunday said the population in his school has skyrocketed. "In my own school, we have at least 60 something in a class. We have JS1 A, B and C ditto J2 and 3."
"If the government can provide more classrooms, it will assist the teachers as well as the students because the classroom is not conducive when you have a large number of pupils. The classrooms are filled up such that teachers are restricted to the board. When you give them (students) a task, it will be very difficult for some teachers to be moving around in order to cross-check what the pupils are doing."
When asked to score the Government's efforts in improving basic education through SUBEB, Mr Sunday said, "I will give them 50 Percent."
He continued, "When you go to the villages, we have dilapidated structures. The teachers are teaching under structures which are uncalled for. If the government can try as well as UBEC, they can build all these structures for them in the villages, believe you me, none of these village parents will be sending their pupils to the State capital in order for them to further their own education. And that is the only major area that we are lagging behind in Kwara State. I can say that the government is only focused on the State Capital alone. There are some villages where the State Government is trying to build some classes for them but that is not enough."
The revamping of schools has opened up job opportunities, as SUBEB has employed more teachers. As part of its engagement policies, teachers have been assigned to schools in their home local government areas to ensure that qualified teachers are available in rural areas, where quality education was previously lacking.
However, interviews with some of the teachers deployed to these areas revealed that many of them do not live in the communities where they are assigned. When asked why, they cited poor social infrastructure in the communities. Some teachers said that they could not relocate their families to these communities, so they travel out of the communities on Fridays and return on Mondays.
They also complained about the deplorable condition of the roads leading to these communities leaving motorcycles as the major means of transportation with an increased transportation costs.
Further interviews with the teachers revealed that many of them are simply biding their time until they receive better job offers. Some teachers have already left for better job offers or due to security concerns.
Another teacher identified as, Mr Abdul, said that to sustain educational development in the rural areas, teachers deployed there should enjoy better remuneration than those in urban areas.
"If the government can provide the necessary things for them like remuneration for the teachers, they will be going to those villages to teach. But there's no additional money for them, there's no housing allowance for them, so how do you expect a teacher to go to the village and teach when there is no allowance for such teachers?
That is why you find a teacher lobbying to go teach in the State capital and that is why we are having a shortage of teachers in the villages."
He also suggested the development of a road network to link these hinterlands to major roads because the present condition in those communities was depriving the pupils from getting the best education like their counterparts in urban areas.
"That's you not being responsible to your community."
The Chief Press Secretary to the Kwara State Governor, Rafiu Ajakaye, said the efforts to address the deficit of teachers in the rural areas are being frustrated by unpatriotic teachers and community members.
"There are instances where we requested communities in the hinterland to nominate their sons and daughters who have competence to teach. Government will assess them, hire them and deploy them to their communities of origin. So it is left to the community to watch you sabotaging the future of their children. We did that in the last recruitment of some 600 teachers. It was a deliberate policy decision of the government to ensure that you have teachers in the hinterlands."
Mr Ajakaye explained that the Government is also considering what he referred to as "Rural Teachers Allowance " but was been hampered by funds. In the meantime, he described the attitude of teachers who do not find pleasure in teaching in their community of origin as an act of sabotage. "..it is a sabotage to the community, that's you not being responsible to your community. We did that intentionally to guide against the trend of communities in the hinterlands not having adequate teachers. The idea is to make sure that you sign a bond commiting you to your place of assignment for at least five years."
Chief Press Secretary to the Kwara State Governor, Mallam Rafiu Ajakaye. Photo: Abdullahi Ahmed.
Although SUBEB projects dot many Local Government Areas of the States, there are reservations about whether the projects meet the specific needs of the receiving communities, or whether they are just another "father knows it all" project dumped on the communities. For instance, in Alagbado community where a block of two classrooms was erected for Junior Secondary School students, it is insufficient as Junior Secondary School classes run into three, aside from the fact that each of the classes often runs into two or three divisions due to students' population. It is evident that considerations were not given to the number of students as classrooms have become overcrowded, putting more pressure on teachers and hindering teacher-student rapport. There are also reservations about what determines the location of a project as some schools enjoy SUBEB's support more while some others, perhaps with more pressing demands, get little or nothing.
Kwara Access 2020 UBEC Counterpart Fund
During an interview with KWSUBEB Chairman, Professor Adaramaja, he disclosed that the State had also accessed the 2020 matching grant of One billion, four hundred and thirty million naira and would soon open bids for contractors to be engaged in the next phase of project implementation.
"We have accessed the 2020 matching grant. The 2021 matching grant the Governor has also approved that one, so very soon, we would place advert for 2021 matching grant."
KWSUBEB Chairman, Professor Abdulraheem Shehu Adaramaja holding an Album of projects done. Photo: Isiaq Abdulhamid.
On September, 20th, 2023, the premises of KWSUBEB along Federal High Court way, Ilorin was filled as contractors came to witness the opening of the UBEC/SUBEB 2020 Project bidding. The programme declared opened by the Deputy Governor, Kayode Alabi had a total of 215 Contractors who had submitted tenders following an advert placed in three national dailies.
Bid tenders submitted by contractors for 2020 SUBEB projects. Photo: Isiaq Abdulhamid.
Among them was Alhaji Abdulkareem Gege, treasurer, Indigenous Contractors of Kwara State.
"We local contractors, we don't have money, we borrow to execute jobs, we even borrow to write tender. We local contractors, they should always consider us because of the economy now. Although they used to consider it, we want more."
When asked about the contracts he had done in the past for SUBEB, he remarked that they pay promptly. "They pay well. Once you have done a good job, they wouldn't see you before they begin the process of payment. They are good in that aspect."
"I have built a block of two classrooms for them, toilet facilities. The classrooms were awarded for about seven million naira then while that of the toilet was awarded for one million naira. Things are getting expensive. They should consider us," he said, with the hope that consideration would be given to this year's awards as the cost of building materials had soared as a result of the removal of fuel subsidy.
Another contractor, Alhaji Builder Maruf Ahmed, the State Secretary Indigenous Contractors Association, commended the transparency in the bidding process and called for its sustainability.
"As it is transparent in our presence we expect that the outcome will justify the laid down rules and procedure so that jobs would be awarded on merits to the deserving people. The transparency that we are seeing should be sustained."
Cross section of contractors at the 2020 Bid opening at KWSUBEB office, Ilorin. Photo: Isiaq Abdulhamid.
KWSUBEB Data Shrouded in Secrecy
If there is something the government would not want to disclose, it is how the sum of N14.2 billion was expended on each of the projects carried out as requests for such documents were turned down at several attempts. I also visited KWSUBEB's website but found no data relevant to my research as the information on the site was stale stories of the agency's activities.
At an engagement with the Chief Press Secretary to the Kwara State Governor, he insisted that such information was unnecessary owing to the visibility of the projects executed.
"I don't need to tell you how we have really spent the money because you can see anywhere you go to in different parts of Kwara State that our schools, basic schools are wearing a new look. New layers of infrastructure are being put in place, WASH facilities, that is sanitation facilities are being put in place, you have toilets are being dug, water is being provided, digital literacy center built by the administration in collaboration with UBEC. That's what the government has used the money to do and I can tell you that with the N14.2 billion, there have been interventions in 605 schools in Kwara State."
The titbits of data gathered for the report were mostly obtained through goodwill as Government officials declined to provide me with documents to analyze. Even at that, the data were incomplete and took a longer time to access.
The Elite Network for Sustainable Development, ENETSUD is an anti-corruption civil society organization in Kwara State with Comrade Lanre Osho as its Deputy Coordinator.
Comrade Osho declared that the non-domestication of the Freedom of Information Act, FOI in the State is hindering good journalism practice thereby giving room for misrepresentation of facts.
"That is why we said we want FOI in Kwara State, had it been that there is FOI we will be able to exchange correspondence. We will write to the Ministry of Finance, Kwara State to furnish us with information.
"Don't use media trial, provide an enabling environment for the civil society organizations to engage your Government, to promote transparency and accountability."
ENETSUD Deputy Coordinator, Comrade Lanre Osho responding to questions in his office. Photo: Isiaq Abdulhamid.
Findings revealed that during his first tenure, Governor AbdulRahman Abdulrazaq returned the FOI bill to the State House of Assembly, after the House had passed it to him for ascent. Since then, nothing has been heard about it and no one seems to be talking about it. This has made it difficult to access data for interrogation and frustrated many researchers and journalists to a halt.
SUBEB Projects and Maintenance Culture.
At LGEA Primary School, Gaa Odota, the solar-powered borehole constructed with the 2017 counterpart fund is no longer working. The community says they have been unable to repair it due to a lack of funds and economic hardship. Students now have to fetch water from across the school premises to maintain sanitation and hygiene. The community also complained about a shortage of tables and chairs for pupils.
In Ayegun Primary School, some of the school facilities have collapsed due to frequent vandalism by hoodlums. In addition to insecurity, some of the projects are in a state of disrepair and need attention.
Who is responsible for the maintenance of SUBEB projects? This question was put directly to the SUBEB chairman, Professor Adaramaja. He explained that SUBEB supervisors are assigned to each school and visit regularly to assess the condition of the projects. These reports are then sent to the Commission for necessary intervention.
"The community, the school based management committee, we hand it over to them for monitoring. And of course, we don't leave everything for them hundred percent. Our monitoring assurance, the project unit also visit those place(s) for feedback."
The faulty deep well solar powered water project at Gaa Odota.Photo: Rasheedat Iliyas.

One, however, wondered how long it would take for the intervention to come because, according to residents, Gaa Odota community had appealed for the repairs of the SUBEB borehole sited within the school premises since April, 2023 and as at September, 2023, help was still not in sight.
However, the CPS to the Governor held that the responsibility to protect public school facilities rest on the community. "This is not limited to schools, water facilities, roads, hospitals, all of these things, once the government has invested in them, it becomes our responsibility as a people to guide them jealously. When we don't do that and they get destroyed, yes, the government may have the responsibility to fix them again, but what we must understand is that government has very limited resources."
Aside from the maintenance of SUBEB projects, another issue which leaves much to be desired is the construction of new blocks of classrooms in schools while dilapidated old structures are left to wither away. Besides the aesthetic disfiguration it constitutes in such premises, residents worry that the abandoned old facilities threatens the safety of the school children because of fear of possible collapse or because it could serve as hideouts for miscreants, thereby posing a security threat to the entire community.
For Politics or Posterity?
Aside from misappropriation of the allocated fund, the previous Government in Kwara State was also accused of improper record keeping and failure to submit its financial returns to UBEC for two years. This information came into the open after the inauguration of another administration in 2019.
Although the present administration declined to give detailed information on how the N14.2 billion UBEC matching grant was expended on the 1,810 projects it embarked on between 2020 and mid-2023, it says the siting of some UBEC funded projects, such as the Smart School, in the State is a testament that the KWSUBEB is living up to expectations.
Mr Ajakaye said, "true to what we have done, several Federal Government committees have visited Kwara and they have praised the administration for the judicious use of the intervention fund, that's UBEC fund.
"So there's no question of not properly spending the resources because UBEC itself has testified to the fact that there has been a change, serious paradigm shift from what used to obtain in Kwara and now what now obtains. The House of Representatives Committee on Basic Education, that's UBEC, also visited Kwara, led by Professor Ihonvbere (Julius O. Ihonvbere) and they really really commended how this administration has spent the UBEC funds. There's not a single ward, and Kwara has 196 wards, there is not a single ward you go to in this State that you will not find the imprint of the administration in basic education."
This report was supported by the Wole Soyinka Center for Investigative Journalism (WSCIJ) under its CMEDIA project.



Do you have any information you wish to share with us? Do you want us to cover your event or programme? For Adverts or report call/WhatsApp us on +2349064433505 or reach us at infokwarareporters@gmail.com