Mohbad Was Brought In Dead, Medical Facility In Viral Video Not Ours – Hospital
A medical facility, Perez Medcare Hospital, has refuted claims that the late Ilerioluwa Aloba, better known as Mohbad, was never admitted or treated at its facility as the Afrobeats singer was "brought in dead".
Mohbad passed away two weeks ago at the age of 27.
The Lekki, Lagos State-based hospital, in a statement by its management on Monday, also noted that in its investigation when Mohbad was brought in, it was gathered that a nurse had been administering treatment, including injections, to the singer at home.
Perez Medcare Hospital said it was critical to correct "misleading and false information" that the 'KPK (Ko Por Ke)' crooner died at its medical facility.
"We consider it pertinent to put on record that at about 04:30pm on the 12th of September 2023, the lifeless body of Mr. Ilerioluwa Oladimeji Aloba (AKA Mohbad) was brought to our medical facility and our medical team immediately sprang into action," the statement said.
It further disclosed that an assessment was carried and it was discovered that there was no sign of life: "no central or peripheral pulse, no heartbeat, no recordable vital signs and his pupils were fixed and dilated."
"On attempting CPR (Cardiopulmonary Resuscitation), rigor mortis (stiffening of some parts of the body in relation to death) was observed and the persons who brought him to our facility were informed that it was a case of BID (Brought in dead)," the hospital explained, adding that its team advised that the body be taken to the nearest government hospital to be deposited in the morgue.
Asserting that Mohbad "was not a patient of Perez Medcare Hospital and was never admitted at our hospital at any material time whatsoever," the hospital held that the nurse said to be administering treatment to him at home was also not its employee.
It added that the video of the medical facility in which the late singer was recorded while alive and receiving treatment was not its own.
The hospital management also expressed its condolences to Mohbad's family and friends, while echoing the calls for a thorough investigation into the circumstances of his "sudden death".
See the full statement below: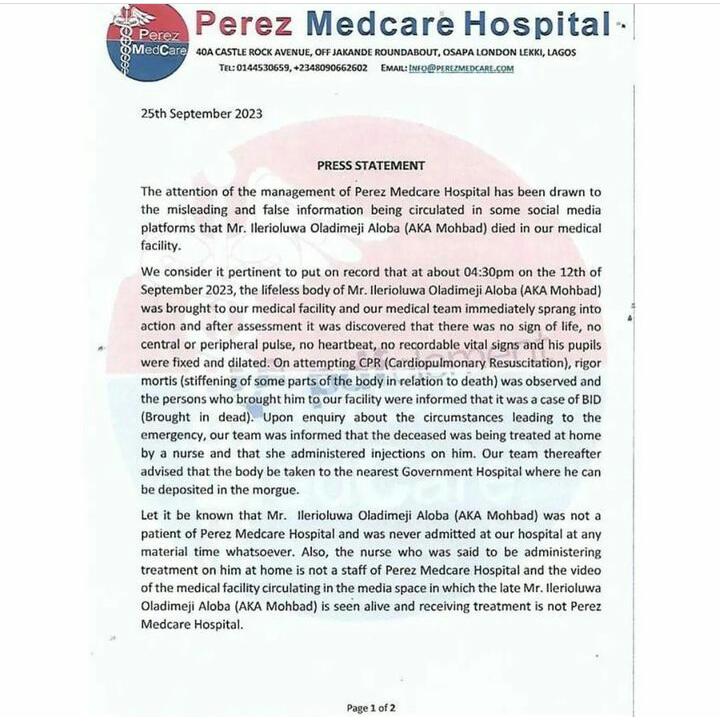 Do you have any information you wish to share with us? Do you want us to cover your event or programme? For Adverts or report call/WhatsApp us on +2349064433505 or reach us at infokwarareporters@gmail.com