Fresh Twist, Plots In Warri Kingdom: As Chief Ayiri Presents 'Fake' Beads, Sword As Ologbotsere To Olu Of Warri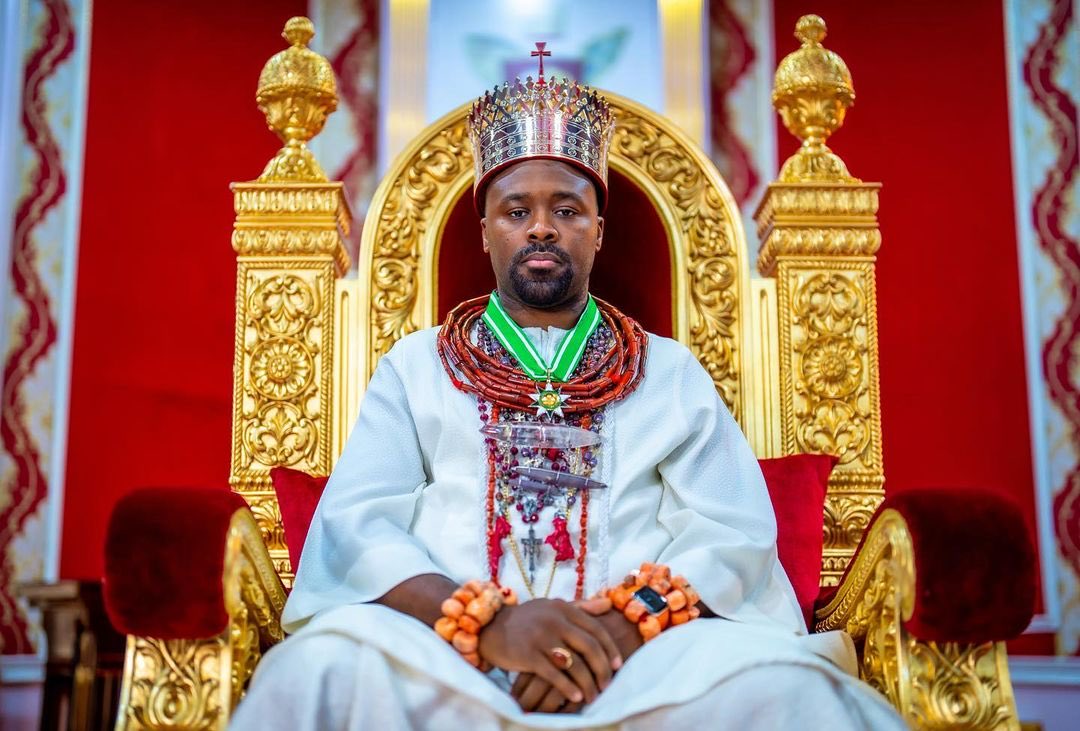 …My original title beads, sword as Ologbotsere still intact – Chief Ayiri

…True reconciliation, will not be forced on Ogiame – Olu of Warri

…New Ologbotsere Installed
In what appears like an epic drama, billionaire Itsekiri oil magnet, and the Ologbotsere of Warri Kingdom, Chief Ayirimi Emami, on Sunday, led Ologbotsere Descendants to the palace of Olu of Warri Kingdom but what came out of the palace thereafter may open fresh can of worms, and instill more tension and discord among the Itsekiri people.
According to the reports by
BIGPEN NIGERIA
, Ayiri, whom now seem to have been betrayed and lured into the plot, was said to have presented a title bead, a sword to the paramount ruler signaling he has dropped his Ologbotsere's title for revalidation but the development may open a fresh chapter to the feud between the Olu of Warri and Emami, a chieftain of the ruling All Progressive Congress (APC).
This is as Chief Emami, in a dramatic twist after his supposed Ologbotsere's chieftaincy title revalidation before the Olu of Warri failed, has announced that his original title beads and sword that were handed over to him at installation as Ologbotsere of Warri Kingdom as customary by the Itsekiri people, are still with him, maintaining that what he presented to the Olu of Warri, His Majesty Ogiame Atuwatse III, were 'dummies'.
Before the plot unfolded, the revered monarch was able to established his over-lordship over all title holders in Itsekiri Kingdom in his charismatic way of speaking and had preached unity among the people but in a twist pronounced the unexpected.

He reinstated the Ologbotsere title that was earlier scrapped during the succession crisis but why he couldn't revalidate Chief Ayiri Emami with the title rather offered him his late father's title is what many watchers of development in the Kingdom are yet to unravel.

Source said that it was a plot known to many except Ayiri. Dependable sources revealed that the former president of the Christian Association of Nigeria, CAN, Pastor Ayo Oritsejafor, who has been in the forefront of those pushing for reconciliation of the Olu of Warri and Emami in the aftermath of the coronation crisis, have to excused himself stylishly from the palace when it became obvious the monarch was not prepared to follow the last peace committee recommendations which he chaired.

It appears the monarch was not keen about their recommendation to have Chief Ayiri reinstalled or something could have got amiss at the palace while the King was still speaking as his action seem to be in contrary with his speech of reconciliation and unity.

Chief Emami, apparently vexed by the development staged a walkout from the Olu Palace, alongside many Ologbotsere descendants, after declining the Olu of Warri's offer for him to take his late father's title 'Eyeku' instead of his supposed Ologbotsere's chieftaincy title revalidation as was agreed in the peace parley held Friday night.

Speaking at a gathering of Ologbotsere descendants and pressmen at the Ologbotsere Hall in his Palatial Home at Egbokodo, Warri, Chief Emami said that the incident at the Olu Palace, brought joy to him for many reasons, including a biblical reference Papa Ayo Oritsejafor illustrated Friday April 14, during the peace meeting at the Palace, "when he said if the Devil knew that Jesus Christ would be celebrated, they wouldn't have killed him."

Speaking in Itsekiri dialect, he said: "Those that asked me to honour invitation of the Ogiame, knew they wanted to kill me, but if I had not honoured the invitation, they would have said I do not want the blessings of Itsekiri."

"You guys should not worry yourselves, what wants blood, if you give it palm oil, it will not take it. Today is a day of joy for so many reasons. When they said the king sent for me, many said I should not go, some said I should go. He that is in me is greater. People that said I should honour the invitation, are more than those that said I shouldn't honour it. Those that advised me to go the Palace, said if I go, there will be peace in Itsekiri land and I hold issues concerning Itsekiri in high esteem.

"When he (the king) called me, he told me of the dream he had about Ikenwoli (the transited Olu of Warri) and what Ikenwoli did. Anytime the President-Elect, Asiwaju Bola Ahmed Tinubu, meets me, he always advised me to go and see the Olu of Warri. He told me to forget about ancestors and go to the King, that was exactly what I did. Even Oba of Benin spoke about the issue.

"The wife of Ologbotsere, is the eyes of Ologbotsere. My wife called me and advised that I should not carry my original beads and sword to the Palace today. These three beads; bead of Atuwaste II, my late father and that of Ikenwoli, are my inheritance, I did not buy them. Have you seen me with one bead before?".

Spokesman of Ologbotsere Descendants, Comrade Alex Eyengho, who addressed newsmen at Chief Emami's house, averred: "What happened in the palace today, was part of a script that has been written. We got premonition of the event that would play out, hence the bead and sword presented at the Palace, are fake. It has been an ongoing script. Ologbotsere family is not stupid. The original beads and sword are intact. Once you give a title to someone, it is till death. You don't take it back. For Ologbotsere title to be given, it must come from the family of Ologbotsere, on request from the king. Chief Ayirimi Emami remains the Ologbotsere of Warri Kingdom."

Earlier, in his pronouncement at the Palace, the Olu of Warri, Ogiame Atuwatse III, declared in parts: "Today is a very unusual day. But we will do something unusual. I won't do this publicly again, but there is a reason why today is public. Opportunity for us to come together and reconcile. The outcome is for the good and betterment of Itsekiri, irrespective of anybody's reaction. God does not have an opposite. Ogiame does not have an enemy. In this kingdom, there is no rival. The beads on the neck of our Chiefs, are personal property of the Ogiame. I will have mercy on whom I will have mercy. True reconciliation, will not be forced on Ogiame. The terms will be determined by Ogiame. We have divine reason to do this publicly, it is not an easy thing for me to do this, I had to humble myself. Itsekiris want Ogiame to be proud at all times, because we are proud people. As directed and determined by God, pride is actually not one of the ways of God.

"I had been battling for almost two years on how I could come down to address this Ologbotsere issue. I was covering Ayiri Emami even when I was in Idaneken. I authored apology for him to read, as it happened, the apology didn't surface. God wants this matter to be resolved, I understand the fears some of you might have. Every human being deserves a second chance. Monarchy is a reflection of how God operates.

"Ikenwoli told me: "What I did privately with Ayiri, do it publicly for all to see" this was after O.N. Rewane, Chief Mayuku and Chief Akonu Emami appeared to me in a dream. None of you here, is better than this man (Chief Ayiri) I am tired of fighting. I will not humiliate the Ologbotsere family. The Ologbotsere title, remains the most senior title. Ikenwoli like Atuwatse II, knew what they saw in this man (Chief Ayirimi Emami). Let everyone, stand up and celebrate this man (referring to Chief Emami).

"I do not want Itsekiri to fight, I have given him a chance for redemption, to work for the interest of Itsekiri. He has conceded he will not accept his father's title.", the paramount ruler announced.

BIGPEN NIGERIA reports that it is not clear what will happen in the days ahead as the Olu of Warri and Emami would continue their litigation over the succession processes. While Ayirimi Emami is contesting the process that brought the Olu to the throne, he is also in court challenging his Ologbotsere's title stripping which unfortunately have been ostensibly handed someone else.

Whether Chief Ayiri Emami will be heading to court to sue the supposed new title holder is yet another puzzle before watchers of development in the Kingdom. It is also not clear what Ologbotsere Descendants would make of the said installation of a new Ologbotsere in the days ahead.










Do you have any information you wish to share with us? Do you want us to cover your event or programme? For Adverts or report call/WhatsApp us on +2349064433505 or reach us at infokwarareporters@gmail.com